The St. Thomas Police Service is pleased to offer this new service of on-line reporting for Sexual Assault Investigations.
We understand that often times victims of Sexual Assaults have a difficult time reporting these crimes and that these crimes often cause long-lasting trauma.  Our response, knowing that victims may have difficulty speaking about these incidents with friends, family and police officers, is to offer this on-line reporting tool.
By completing this on-line form, your submission will be read by a member of the St. Thomas Police Criminal Investigations Unit and followed up accordingly.
Our goal is to bring these cases to a resolution by conducting a professional and thorough investigation.  Along with investigating your matter, we will provide you with assistance and the resources for on-going support during your period of recovery.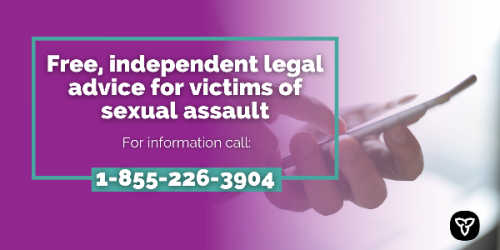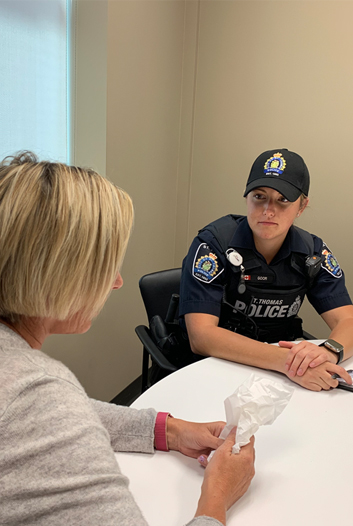 Victim Services Elgin
Victim Services Elgin is a non-profit, charitable organization dedicated tohelping survivors of crime. They provide responsive, accessible, and accountable programs and services. They focus on restoring and enhancing the survivor's quality of life and preventing re-victimization. There is immediate on-site support and crisis intervention, operating 24/7. They will connect you to agencies and resources in your local community for counselling, advocacy, violence prevention, safety services and outreach. Website: www.victimserviceselgin.org
Victim Witness Assistance Program (VWAP)
The VWAP provides information, assistance and support with respect to the court process for all survivors and witnesses of crime. The VWAP is located within courthouses across the province. To find the closest courthouse with a VWAP office, check the telephone book (all courthouses are listed in the blue pages under "Courts"). You can also check the Ministry of Attorney General website www.ontario.ca/attorneygeneral
Crisis Lines
Reach Out – Mental Health, Addictions & Crisis Services
1-866-933-2023
www.reachout247.ca
Medical
St. Thomas Elgin General Hospital
189 Elm Street
St. Thomas, Ontario
N5R 5C4
519-631-2030
www.stegh.on.ca
Ministry of the Attorney General (Independent Legal Advice for Survivors of Sexual Assault)
Sexual assault is a crime. Sexual assault takes many forms. It is any unwanted sexual contact. It does not have to include intercourse.
You have been sexually assaulted if someone forces you to participate in any type of sexual activity without your consent. A lawyer can help you make an informed decision about your next steps. Ontario provides victims of sexual assault with free legal advice any time after the incident, regardless of how much time has passed. The program is available to all eligible women, men, trans and gender-diverse people. Victims of sexual assault are eligible if: they are at least 16 years of age and live in Ontario; and the sexual assault happened in Ontario.
Please see Fact Sheet for program details (21-0061 – Attachment 2 – Fact Sheet – ILA May 2021 (EN)).
Accessing the program
Toll-free: 1-855-226-3904
For the Barbra Schlifer Commemorative Clinic call: 416-323-9149