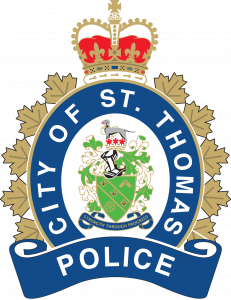 STPS - PIPES AND DRUMS BAND
St Thomas Police Pipes and Drums
The St. Thomas Police Service Pipes and Drums Band consists of members of the community representing a variety of occupations and pastimes!
Get Involved
Check out these pipes and drums! If you are a history buff with a love for music, join the St. Thomas Police Pipes and Drums!
The band is currently recruiting new pipers and drummers from beginner to experienced levels.
Joining the band is a great opportunity for camaraderie, community connection and the chance to perform at ceremonies, memorials, parades and events in the St. Thomas area. Practices are held once a week at the Colin McGregor Building Headquarters to the St Thomas Police Service.  Beginner or experienced players are welcome to sharpen their skills or learn from scratch. Lessons are free. The band's goal is to provide playing and learning programs where everyone can move forward in a positive, supportive environment.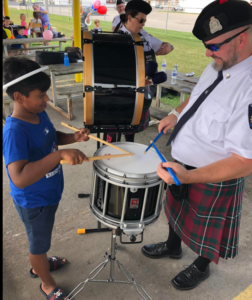 Requirements
All members must be a minimum 16 years of age
All members must be willing to undergo a background check
All piping students will need to purchase a practice chanter and tutor book. The band will recommend both to you.
All drumming students will need to purchase a drum pad and a set of sticks. Again, the band will recommend both to you.
Sign up
Interested in joining the band?  Find us on Facebook @St.ThomasPolicePipesandDrums or watch for our next open house or join mid-season by sending us a message.
History
The STPPD band was establish in 2019 under the leadership Pipe Major William Morrison, U. E., with four pipers and 1 drummer.  Following a Covid pause, the band now consists of 8 pipers and 4 drummers and is building on a long tradition of pipe bands in St. Thomas dating back to the 1920's.
Dress
The band wears MacGregor Hunting Tartan to honour Constable Colin McGregor who lost his life in the line of duty.
Performances
To book the pipe band or to find out more about performances, contact April Morrison at yleobyapril@gmail.com or (226) 503-4590.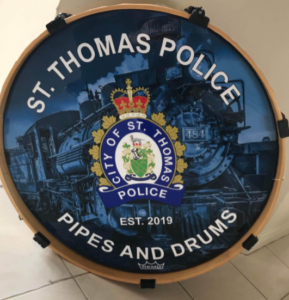 Donate
The St. Thomas Police Pipes and Drums are a not for profit community organization. Active members of the band are provided with a kilt, jacket, vest, shirt, tie, glengarry and sporran. Donations are always welcome to keep this service operating and are eligible for official tax receipts issued by the City of St. Thomas Treasury Department. Cheques should be made payable to the City of St. Thomas Band Fund.