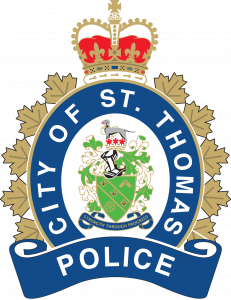 PSD Trax Retires (Tour of Duty 2013-2017)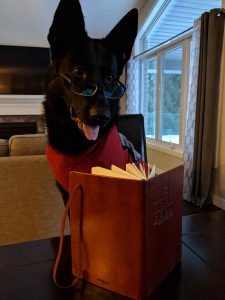 After 160 years the St. Thomas Police Service (est. 1852) formed our first ever Canine Unit in 2013. The formation of the Unit was made possible by the Ministry of the Attorney General via a Civil Remedies Grant which, along with community donations, covered most of the costs outside of our operational budget. Constable Sean James and PSD Trax completed their training with the London Police Service from September 2013 through to January 2014. On January 16th PC James and PSD Trax commenced their first tour of duty.
Trax is a pure bred German Shepherd from the Czech Republic. A "Name the K9" contest was held inviting local school age children to choose a name that represented St. Thomas.  Trax's name reflected his responsibilities, as well as the community he served, with its rich railway heritage.
 Trax was forced to hang up his badge after three and a half years on the job when he received a career ending diagnosis of Gracillis Myopathy.  The diagnosis came after PC James noticed something off in the dog's gait one day during training.  Gracillis Myopathy is a hardening in the Gracillis muscle causing restricted movement which cannot be cured.
Although the entire service was devastated to see Trax go, everyone was reassured knowing he would be adopted by his handler PC James.  To this day he lives a very spoiled life as a beloved house pet enjoying much love and many treats.

Trax's career stats include:  seven successful tracks, several open building searches, four article searches for evidence, eighteen arrests, numerous drug searches and an abundance of community demonstrations
2017 Axle Hits The Streets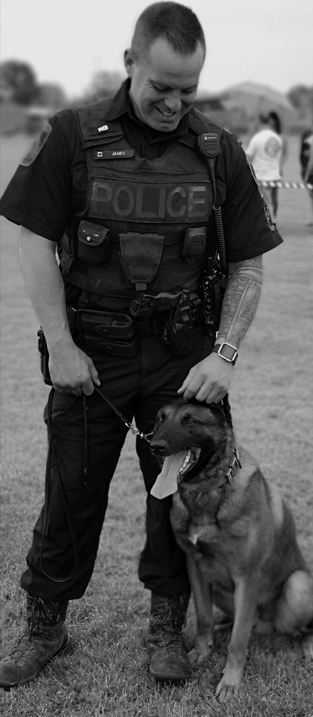 The St. Thomas Police Service immediately realized the immense benefit it was to the community to maintain the Canine Unit. The Service quickly began the search for a new dog after Trax's sudden retirement.
And we met a Belgian Malinois from Michigan 
Axle was named in the same manner as Trax using a "name the dog" competition that invited children in the city to submit suggestions.  Axle's name was chosen from dozens of submissions and carries on with the theme of our rich railway heritage.    
Axle was just fifteen month old when he partnered with PC James for a grueling ten week round of training.   Axle proved to be a quick learner and excelled in all disciplines making him the perfect partner for PC James
Together, their main duties  include building and area searches, evidence location, criminal apprehension and searching for missing persons. PC James and PSD Axle train continuously to keep them at their highest level of performance. Police Service dogs are highly obedient and will follow commands only from the police officer trained to handle them.
Sean and Axle are very active in the community attending public events, schools and providing presentations.
Through generous donations from local business and community members, our Service is able to provide a K-9 Unit for the citizens of St. Thomas. A special note of thanks goes out to all of those businesses and individuals who donated funding and provided support. Members of our community and policing partners are fundamental in the development and maintenance of our Canine Unit and it is deeply appreciated. Without the help of the community, none of this would have been possible.
Our proud supporters are:
HIRA Construction
St. Thomas Pet Valu
Pampered Pooch
Centennial Sports Club
Spectrum Communications
St. Thomas Ford
Elgin Animal Hospital
Geerlinks Home Hardware
Fric's Auto Repair
Elgin Tirecraft
London Police Service
Black Top Customs
Auto Trim Design