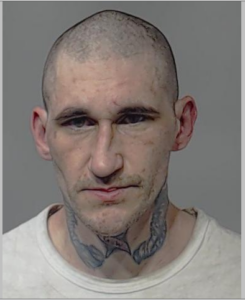 On Tuesday March 14th 2023, at approximately 3:45 PM, St. Thomas Police were notified by Sarnia Police that they had a St. Thomas man in their custody on the strength of our warrants.
As such, members of the St. Thomas Police Service attended Sarnia to take 33 year old, Daniel Corlett into custody. He was transported to Police Headquarters where he has been held for morning court.
The charges Corlett faces are in relation to a home invasion that took place on January 29, 2023 (ST23001544)
At the time of the offences, Corlett had been released by the Courts and was out of custody on numerous release orders with conditions.  He further was bound by court orders prohibiting him from possessing firearms and/or ammunition.
Corlett now faces the following charges:
5 counts Possession of a Firearm or Ammunition contrary to Prohibition Order
1 count Failure to Comply with Undertaking
2 counts Failure to Comply with Release Order
3 counts Fail to Comply with Probation Order
1 count Unauthorized Possession of a Weapon
1 count Assault with a Weapon
1 count Break and Enter
1 count Firearm, use while committing an offence
1 count Possession of a Weapon for Dangerous Purpose
1 count Pointing a Firearm
ST23004106