Theft of Lottery Tickets
St. Thomas Police are attempting to learn the identity of a male that stole a number of lottery tickets from a local retailer.  The male entered the store, requested a number of lottery tickets, grabbed them and fled the store.  It was later learned that a vehicle associated to the same male had been previously reported stolen.  Police are requesting the public's assistance in identifying the male.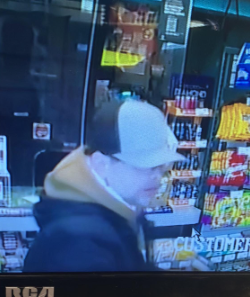 ST23000816
2 Females Make off with $1000 in Merchandise
Police are investigating after 2 females were caught on camera making off with approximately $1000 in merchandise from a local retail store.  Suspects were on video in the store selecting numerous items and leaving the store.  The suspects entered a beige colored SUV outside the store and fled.  The vehicle had no visible license plates.  Anyone with information is asked to contact the St. Thomas police.  Reference number ST23000828.
Aylmer Man charged with Breaching Conditions
A 49yr old Aylmer man has been charged with Failing to Comply with conditions of his release order and being found in contravention of such early this morning.  The 49yr old was located on Joyce Street in the city of St. Thomas shortly after midnight and arrested.  He was transported to the St. Thomas police station where he awaits a court appearance.  ST23000832
Theft of Jewelry from Personal Locker
A female resident from a Princess Avenue address is out some of her personal jewelry and effects.  The female reported to police, that a personal locker within the residence was entered sometime after 12:30 on January 14th, and numerous items, including jewelry and person effects were removed from her locker.  There are no suspects at this time and the incident remains under investigation.  ST23000831