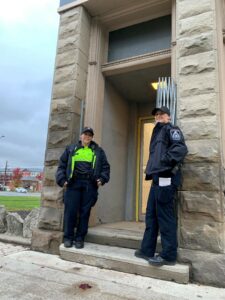 "After several months of searching for a suitable location for our new satellite office, we are excited to announce that work is now underway to prepare a storefront substation at 584 Talbot Street for our recently deployed Special Constable Community Resource Officer (CRO) team.
The satellite office will enhance our presence and accessibility in the downtown. The community is our partner and business owners and visitors in the downtown will have a prominent location to further connect and build relationships with STPS foot patrol officers. We have received positive feedback from the public and business owners since the new CRO team started walking foot patrol in the downtown. Anytime we can enhance our presence, it also enhances safety so residents can comfortably enjoy the businesses, restaurants and events that downtown St. Thomas has to offer.
We continue to remain committed to improving the quality of life in the downtown through proactive policing to the highest achievable standards.
Thank you to our Police Services Board (Chair Dan Reith, Mayor Joe Preston, Councillor Jim Herbert, Vice-Chair Scott Birkby and Mr. Dave Warden) for their unwavering support to ensure community safety and well-being is a priority for those who we serve – the residents of St. Thomas."
Chief Chris Herridge