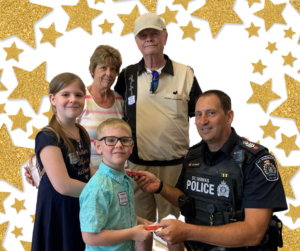 The St. Thomas Police Service would like to give a very special thank you to…….
Six year old TYLER and his ten year old sister NOELLE!
These kids emptied their piggy bank at grandma's house and were asked what they wanted to do with the money.
The kids chose to go buy gift cards at Shoppers Drug Mart, Tim Hortons and McDonalds to help the homeless. Grandma and Grandpa brought them to the police station today to give the cards to the police to hand out to people in need.
Staff Sergeant Mike Buttinger was pleased to accept the cards and carry out the kid's wishes.
Thank you TYLER AND NOELLE!
We think you are awesome!