Community Services Officers
The Community Services Officers are a dedicated visible presence in the downtown core of the City of St. Thomas. This Beat Patrol Unit are often walking or cycling through the downtown or monitoring city parks and pathways.
This highly visible and highly proactive approach to policing offers a balanced response through enforcement and education.
Their approachable presence is key to building strong partnerships between the community and the police service resulting in closer relationships, greater community safety and promotes community based policing to the public.
This close-up and in-person opportunity to interact with residents, merchants and visitors enhances community/police relations, fosters effective partnerships and develops a feeling of shared responsibility with the community.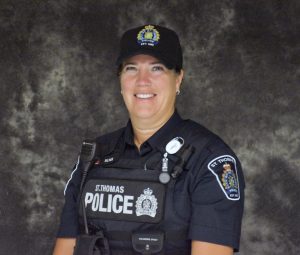 Constable McNeil, Community Services Officer